These girls and boys are the foundation of Kelby breeding. They all live with me at KelbyGSD. All Kelby dogs are OFA certified before breeding, and recieve a minimum of obedience training to show their intelligence and to help choose what type of male to breed to. We will help you select a litter that is right for your unique situation.
Wonderful temperments!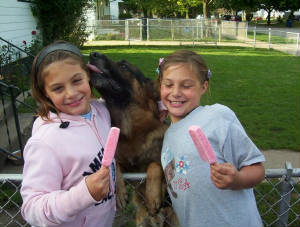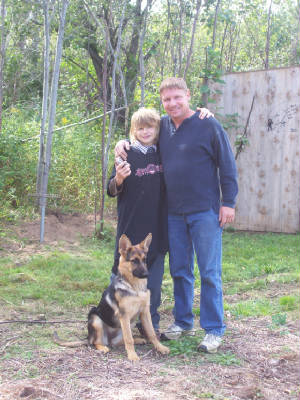 Django daughter.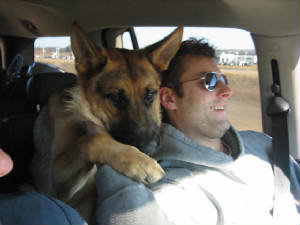 Django son.
django son.
A hanging out picture of Xando.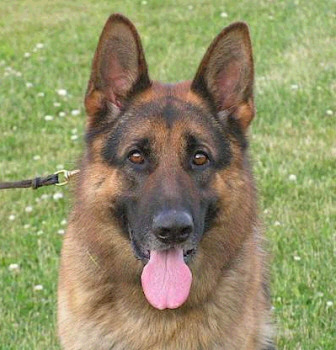 Notes on the above dogs: LOTS OF CHANGES AT KELBY. EDITED INFO COMING SOON. BUT MEANWHILE, THIS TELLS SOME OF THE STORY: Jem is my 13 year old daughter Lauren's dog, and wow are they a pair. OFA Good hips. Jem is absoultly child safe, and will stand right up to a stranger who approaches her girl (Lauren). Jem is the daughter of Jojo, seen retired dogs page. Jojo is a very large female, and made large pups. Jojo is retired to a pet home. Jojo's mother Jackie, has had a wonderful breeding and show career. She has taught me much about what a good brood bitch should be and has given me a wonderful daughter and granddaughter to go forth into the future with. Both of these girls OFA'd good. Chloe is an ultra strong, smart dog with a good OFA rating, and a CGC. Chloe is retired. Next we have Karlee. Karlee has given me five exceptional litters, and is now retired. Karlee has a CD obedience title, and has been a therapy dog. Her daughter Alexis brings us into the future. Alexis was two years old in April, and has just had her first litter. Meanwhile she is learning obedience, and how to be a spoiled camping dog. She loves to swim, just like her mom, and will probably be just as bossy!!! Trina vom Kelby is the daughter of Valerie Vom Amur V rated, Sch.2, KKL1, and Farnaby von Christinen Brunnen, Sch.2, V rated, KKL1. Her pedigree is top quality, and Trina's large structure and bright red color appeals to many. It takes a lot to raise a dog to the point of breeding, and Trina has made the grade. She has had several litters now, and her 2008 litter is sold out. India Von Huerta Hof, and Carizma of My Bodyguard, are next up for breeding to make early 2009 pups. India is a large independent, strong minded girl that makes pups that need firm handling and attention. Only homes with strong "pack" structure need apply for these babies. Carizma is a 1/2 sister to my police dog Xark. She is full of drive and energy, and very loyal and loves attention. I will find a appropriate black working line male to breed her to late this year. B Secret Von Leerburg is pending hip and elbow x rays in Novemember 2008 to plan her first breeding. She is a drivey working line female, but is also very very sweet and likes to hang out with the family. I plan to breed her to Leo the first time, to make show/working blend pedigree pups. We welcome Falwalla von Christininen Brunnen, from Whispering Pines Kennel. Falwalla will have pups Sept.4, 2008. I'm keeping a few, and I have a few reservations already for this Sch.1 import female, bred to Xando (see current litter page), a Sch.3 male. Yardley Von Christinen Brunnen (Leo), is our current stud dog, and at 3 years old weighs well over 100 pounds, and everyone who sees him, wants one just like him!. I am very fortunate to have all these dogs in my kennel and home. The future is bright! Come back and see us again to learn about them.
Paige in her first conformation show.

Showing is an important way for a breeder to measure their dogs against the standard.