Click Here for current litter information.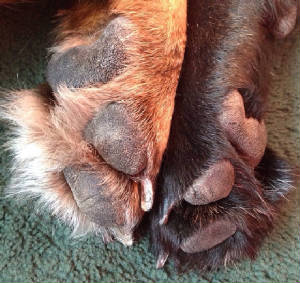 To reserve your puppy or learn about our dogs, email me for information, or go to upcoming/current link at the top of the page. Check out our Facebook page for recent updates!


Beautiful blacks, we do not have any black litters planned this year.

Above is Alexis, go to her page to see more pictures and learn more about her! She is retired but hopefully her young daughter Henrietta will take her bloodlines into the future.

Your personal socializing crew!



Beautiful Oneida



Paige and Xilla

Inquire about pups like these today!

Do you want a dog to see YOUR child off to the first day of school, and await the bus returning??? Inquire about future litters, perfect family companions! More pups coming soon.

Kelby German Shepherds

Promote your Page too

Check out the Kelby Info Page for information on raising, training, and bringing home puppy. This informational page is intended to be my point of view on topics concerning German Shepherd owners. Also see the Puppy Shopping? page to learn exactly what those titles mean next to a dogs name.

Oneida and Ulrick sit on the stairs

Trina vom Kelby as a pup.



Like this pup? More like her coming soon!

Some of the most beautiful blacks you'll ever find. Reserve yours early, they go fast.

Exotic long coats from time to time.
At Kelby GSD I breed top quality German bloodline dogs to make pups that are perfectly suited for the American family structure. I am dedicated to making healthy dogs with sound minds and bodies, and will help you select the pup that is right for you and your unique situation. I have been experienced in the field of raising, training, and breeding German Shepherds since 1984. At Kelby I have the experience of a long time professional career, combined with home raised pups, giving our dogs the best possible start in life. The clients that are lucky enough to come and visit see dogs that are happy, strong, and part of a dog/human pack that is a finely tuned machine. I involve my children in the daily raising and care of our puppies and dogs. We do have some working bloodline dogs too that would fit well with the individuals that want a more active dog, perhaps to compete with in agility, obedience, or schutzhund. A working/show blend pedigree is often nice for the average American home as well.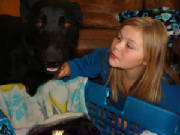 The Kelby Team



Have a vet, groomer, trainer, or other pet care provider you would like to recommend? Email me with the details and I'll add it to the upcoming referals page!

Above is a picture of Robyn holding Alexis's past litter. If you are looking for a dog that is raised to be the ultimate family companion, you've come to the right place!

Kelly,
I purchased a puppy from Carizma's first litter last year and see she is having puppies. I wanted to give you a picture of Mya in case you want to put up any pictures of her puppies when they are older. It is so funny because we were told by a few people that own German Shepherds how their shepherds do not like to play ball. Well Mya is obsessed with ball. She would rather play ball all day then eat food! If there is a ball in the house, she will drop it on you and stare at you until you throw it. I was just reading about Carizma again since it's been awhile and you have that she loves to play ball. Mya must have got it from her mom. Anyways, Mya is our life and really I don't know what we'd do without her. We also had a baby in April and anytime someone new comes in the house, Mya lays right next to our baby Angelica to protect her. Mya is definitely a huge party of our family and we will be forever greatful to you for her. Thanks again. I hope all is well!



AT KELBY, WE LOVE OUR PUPS!

 
 
 
| | | |
| --- | --- | --- |
| This pup from Secret and Leo shows typical puppy ear position. Click on the link below to learn more about puppy ears. |   | |
Looking for a German Shepherd??

Click the picture to go to the current litter page.

Athletic.....

How Kelby Pups are raised.


This is ALEXIS and SECRET, with my husband Tom.

Loyal.........

Kelby pups and Kelby kids having fun!


We live AND camp with our young ones!

Family companions....



My first show dog, Ausker, and I in the obedience ring.

OK, they aren't dogs!


But I can't help but brag about my girls. They are twins, age 12.


Well socialized pups with a great start in life! These are Django pups.

A breeder should be someone who is dedicated to their breed and passionate about their dogs. Wherever you buy your puppy be sure it is from someone who believes her dogs are the best, make the best puppies, and cares about your satisfaction. See the current litter page to find out what is available.

A 10 month old Trina Son.


Nice big bones! Strong and playful.



Paige with a sable pup.



Lovingly home raised.



Lovingly home raised.